One Piece is a beloved and well-known manga series. Since its inception in an issue of Weekly Shonen Jump on July 22nd, 1997, 1031 chapters and 100 volumes of the manga have been published (as of 10th November 2021), with more on the way.
With over 462 million copies sold, One Piece is also the best-selling manga of all time, outselling Dragon Ball, Golgo 13, and Naruto. This also makes One Piece one of the highest-grossing fictional franchises of all time, with over $21 billion in income earned throughout its different mangas, films, video games, and other forms of products.
As the fame of One Piece is spreading throughout the world, the series author Eiichiro Oda announced in Jan 2020 that a brand new live-action series is planned to be released in association with Netflix.
Based on the info given by the Netflix and series staff members on Twitter, Let's dive into what we know about the upcoming movie so far. Here's everything you need to know about Netflix's One Piece live-action series!
Premise:
So far, nothing concrete is known about the plot. But fans speculate that it will cover 100 chapters (the whole of East Blue Saga) in the 10 episodes that have been planned to be made.
The majority of the filming appears to be at Cape Town Film Studios, which provides plenty of area for the pirate ships. The filming location appears to be Cape Town, Africa.
One of the staff members said as follows:
"We have basically all 10 scripts written. We will start casting when we go back. My suspicion is June 1, but we will start doing our casting. We have a lot of names that we're talking about, and we should be in production in September. We have been working very closely with Sensei Oda. So, we're going to get started, and this one is very big. I mean, Snowpiercer was a big production; this is even bigger."
The original plan for production was on August 31st, 2020, and was scheduled to wrap up on February 8th, 2021. However, due to various restrictions (including COVID), delay was inevitable.
One can go to the shooting area and still see the sets. Here are some pics taken by fans:
Netflix officially unveiled the script for the first episode on September 3rd, 2021. It's called "Romance Dawn" and is penned by Matt Owens and Steven Maeda.
In 2017, Oda assures the fans that the live-action project will be faithful to the original series which fans have loved and adored for over 20 years.
I received numerous offers for live action adaptations for 'One Piece.' Three years ago, I finally decided to take a step forward on a live-action adaptation. After twists and turns, I met the right partner. The first condition I presented is that 'the live-action will be faithful to the fans who have supported 'One Piece' for 20 years.' I expect to hear worries from fans but more than that, I'm looking forward to hearing the excitement.

Eiichiro Oda on Netflix's One Piece Live-Action
Source: Variety
Cast & Crew:
The full cast and crew are not yet revealed. However, we do know some key positions.
Original author and Executive Producer – Eiichiro Oda
Co-writer, show runner, and Executive Producer – Steven Maeda
Executive Producers along with the original author – Marty Adelstein and Becky Clements
Other writing staff includes:

Diego Gutierrez
Matt Owens
Allison Weintraub
Ian Stokes
Lindsay Gelfand
Laura Jacqmin
Jason Cho
Damani Johnson
Tom Hyndman

Production – Netflix and Tomorrow Studios
One Piece's showrunner will be Steven Maeda. Throughout his long career, he has worked on shows such as The X Files, Lost, Lie to Me, Helix, and Day Break.
Writer and Executive Producer Matt Owens has worked on popular series like Agents of S.H.I.E.L.D. and Luke Cage.
Steven Maeda, as revealed through his Instagram page, met with the writing crew on May 2020 via Zoom meeting.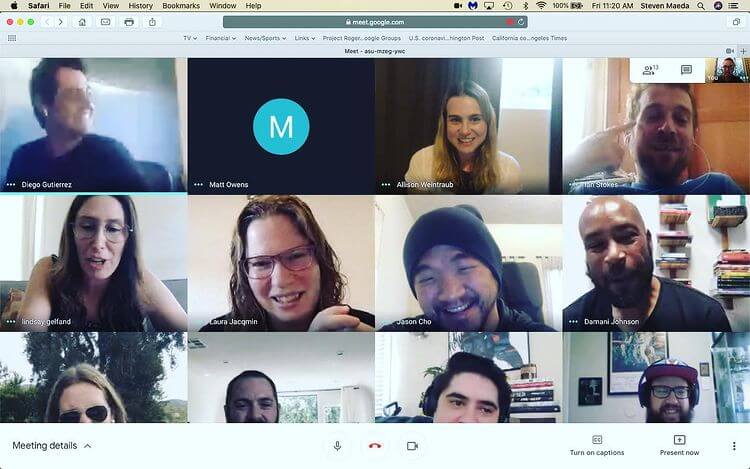 On November 9th, 2021, the official One Piece Netflix Twitter account revealed the cast for some key characters (the bracketed stuff is the notable media each actor has worked in prior to One Piece):
Monkey D. Luffy – Iñaki Godoy (Who Killed Sara)
Roronoa Zoro – Mackenyu (Pacific Rim: Uprising, Rurouni Kenshin, Brave: Gunjyo Senki, and Over Drive)
Usopp – Jacob Gibson (Grey's Anatomy)
Nami – Emily Rudd (Fear Street – Netflix's trilogy of movies, Dynasty, Hunters)
Sanji – Taz Skylar (Agatha Raisin, Villain the movie)
A special welcome video was released by the said Twitter account, introducing formally the Straw Hat crew of Netflix.
Eiichiro Oda comments on the cast members and gives us an update on the film's production so far:
Co-writers Maeda and Owens also share their thoughts and enthusiasm on the project:
We are so excited to set sail with this amazing and talented cast. Finding the right people to pull off the looks, emotions, and actions of the iconic Straw Hats was a long and challenging (and fun!) process. Much like the search for the One Piece itself. But we have finally found the perfect fits! They have already begun working very hard to bring these characters to life. You will come to know and love them just as much as their manga counterparts. All of us can't wait to show you what we've come up with! Onward to adventure!

Maeda and Owens
Source: Variety
In a surprise appearance of Owens with One Piece YouTubers in a virtual gathering called the Reverie (Reverie:8) last year, Owens describes how much One Piece means to him (used the words "saved his life from depression").
While sharing his views to series author Oda himself, the latter places his confidence on Owen, saying he's 100% fit for the role of co-writing and producing the live-action adaptation.
Owens stated that he hoped to introduce the franchise to new audiences through the live-action version, and that the writers' ambition for each episode is to replicate the manga's ability to make readers "laugh," "cry," and "go 'holy shit!'".
However, the East Blue arc will be less episodic, and the series' humor will be suited to contemporary Western sensibilities.
Like so many fans, Owen too shares his distaste towards the 4Kids Dub of One Piece to American audiences in the past, the live-action adaptations of other popular series like Dragon Ball and said he'll do his best to make a faithful, enjoyable and ground-breaking live-action rendering of the series he and so many fans love.
Release Date:
The One Piece Live Action movie will release in the year 2022. No official date has been released so far.
About One Piece:
The tale of One Piece takes set in a parallel Earth when the 'Golden Age of Pirates' is in full swing. The seas are ruled by ruthless pirates, and only the strongest can claim the legendary 'One Piece' fortune left behind by the greatest pirate of them, Gol D. Roger.
Years after Gol D. Roger's death, Monkey D. Luffy dreams of establishing his own crew, locating One Piece, and becoming the Pirate King.
Luffy has incredible strength and agility after eating a devil fruit that turns his body into rubber. He leaves Foosha Village in East Blue on his epic expedition to become the next Pirate King.
Netflix has been substantially investing in animation show live-action adaptations. The corporation has announced a Yu Yu Hakusho series for 2023. The firm revealed some of the Avatar: The Last Airbender cast in August (which we also recently learned includes Daniel Dae Kim). And the live-action Cowboy Bebop premieres on November 19th.
This post will be updated as to when new information about the film comes out. So stay tuned!