While it is still considered a niche interest by some, anime fandom has grown in India over the past 10 years. Now, there are plenty of famous Indian celebrities who watch anime and are vocal about it. Thus we can proudly say, that the anime fanbase has grown into more than just a typical otaku culture. In this article, we will cover the Indian celebrities who are vocal about watching anime series.
Let's take a gander at this surprising list of celebrities who are into anime!
12.Nikhil Sharma
Nikhil Sharma, who has a YouTube channel by the name of Mumbiker Nikhil, is one of the most popular YouTubers in India. At the time of writing, his vlogging channel had over 3.66 million subscribers. He was one of the firsts to make moto-vlogging famous in India.
Like most other celebrities across India, Nikhil is also a fan of Dragon Ball. He is seen to be aware of the anime community and in his social media posts, he tries to connect with other DBZ fans!
Twitter: @emNikhil
Instagram: @nikkkhil
11. Ranveer Allahbadia
Ranveer is a famous Indian Youtuber, fitness coach, social media influencer & entrepreneur from Mumbai India. He is also well-known for his youtube channel "BeerBiceps". He is also co-founder of an entertainment company named "Monk Entertainment".
He talks multiple times about how he is inspired by "Goku" from Dragon Ball Z. His attachment with Goku is less like a fan and more like an inspirational figure for him. He even has a Goku action figure on his Podcast table to keep him working hard and leveling up at every event of life!
Twitter: @BeerBicepsGuy
Instagram: @beerbiceps
10. Shwetabh Gangwar
Shwetabh Gangwar is a big Indian Youtuber with over One Million subscribers on YouTube and also the author of The Rudest Book Ever.
In his Youtube channel, Mensutra, among other topics he frequently talks about Anime in his videos. He has multiple uploads talking about anime shows like Attack on Titan, My Hero Academia, Demon Slayer, etc. He even talks about how the Anime industry can change the picture of the Indian Entertainment business.
Instagram:@mensutra
9. Sorabh Pant
Sorabh Pant is an Indian stand-up comedian and writer. He was rated amongst India's top 10 stand-up comedians by The Times of India. Not only that, in a poll by IBN Live in March 2012, he was listed No. 1 of the 30 most interesting Twitter users in India.
He has a YouTube show on his channel named Wake Up With Sorabh, in which he talks to famous people and his audience about any random topic. This show has a section named "Anime Premi" in which he talks about anime. He talked about his love for the Japanese culture and One Punch Man. Recently, he is hooked to discussing Attack on Titan on Anime Premi.
Twitter: @hankypanty
Instagram: @sorabhpant
8. Carry Minati
Ajey Nagar from Faridabad, is better known as CarryMinati, is an Indian YouTuber and streamer. He is known for his comedic skits and reactions to various online topics on his channel CarryMinati.
He is a hardcore anime fan, on almost every gaming stream he discusses his recently watched anime. Every now and then, you can always see find something related to anime in his content or social media posts.
Twitter: @CarryMinati
Instagram: @carryminati
7. Ashish Chanchlani
Ashish Chanchlani from Maharastra is also a very famous Indian Youtuber well known for his vine, Ashish Chanchlani Vines. He won the Best Comedy Influencer Award along with Dadasaheb Phalke Award for his outstanding contents. He was passionate about acting since childhood and now he has become an internet sensation.
Like many other celebs, Ashish has also become a huge anime fan after watching DeathNote. His headbanging video to the opening of DeathNote got viral over the internet. He was already won over by Dragon Ball Z and Pokemon since childhood, but recently he has has shown appreciation for My Hero Academia, Attack on Titan and many other shounens in his social media posts.
Twitter: @ashchanchlani
Instagram: @ashishchanchlani
6. Bhuvan Bam
Bhuvan Bam is an Indian comedian, writer, singer, songwriter, and YouTube personality from Delhi, India. He is famous for his YouTube comedy channel BB Ki Vines. In 2018, Bam became the first Indian individual YouTube content creator to cross 10 million subscribers.
He is also a big Dragon Ball fan like many other celebs. We have seen him sharing dragon ball-related tweets and posts a few times on his social media.
Twitter:@Bhuvan_Bam
Instagram:@bhuvan.bam22
5. Sonarika Bhadoria
Sonarika Bhadoria is an Indian actress famous for her portrayal of Goddess Parvati in Devon Ke Dev…Mahadev, Mrinal in Prithvi Vallabh – Itihaas Bhi, and many more. She was particularly famous for her role as Parvati in Devon Ke Dev…Mahadev where her Rajput roots really paid off.
Little does the industry know that the actress is huge of Anime. She devotes a lot of time drawing anime characters like Naruto, Itachi, Mikasa, Nezuko, etc which you can find in her story highlights. We know she is a weeb, 'cause her Twitter profile picture is an animated version of herself! Recently, she was seen enjoying a Sharingan cake brought by her brother Harsh on her 28th birthday!
Twitter: @BSonarika
Instagram:@bsonarika
4. Raftaar
Dilin Nair, better known by his stage name Raftaar, is an Indian rapper, lyricist, dancer, and music composer. Raftaar started his career as a rapper. He began his career in 2008 with Lil Golu and Young Amli, recording songs and uploading them on social sites.
He is a hardcore Dragon Ball fan, there are multiple dragon ball references in his songs and social media posts. He frequently engages with anime fans online & he also became part of the Dragon Ball Super Broly movie India campaign by fans. This is the reason he is very respected in the Indian anime community.
Very recently, in November 2020, Raftaar got in touch with his childhood favourite character Goku's voice actor Ankur Javeri. Javeri was a year late responding to Raftaar x Brodha V – Naachne Ka Shaunq song. But, Oh well! It's better late than never, isn't it?
Twitter: @raftaarmusic
Instagram: @raftaarmusic
3.Rashmika Mandanna
Rashmika Mandanna is an Indian film actress and model who works predominantly in Telugu and Kannada-language films. She is popularly known by the media and Kannada film industry as the 'Karnataka Crush'. Mandanna is one of the most popular and highest-paid actresses in Telugu and Kannada cinema.
Keen fans of Rashmika have known for a long time that the actress is a fan of Anime. Recently, she made a Q&A post on Instagram about Anime favorites of her fans. Mandanna also uses cute anime gifs and images to respond to her fan tweets.
Twitter: @iamRashmika
Instagram: @rashmika_mandanna
2.Tiger Shroff
Tiger Shroff is a famous Bollywood film actor and martial artist. Shroff made his film debut with a leading role in the 2014 action comedy Heropanti, which earned him a Filmfare Award for Best Male Debut nomination.
His girlfriend Disha Patani's anime spree has also been an influence however Shroff has always been a DBZ fan. He considers Goku as his mentor and inspiration for action.
Twitter: @iTIGERSHROFF
Instagram: @tigerjackieshroff
1. Disha Patani
Disha Patani is a Bollywood Indian actress who debuted in the Hindi film industry in the sports biopic M.S. Dhoni: The Untold Story. She began her acting career with the Telugu film Loafer opposite Varun Tej.
She is a famous personality in Indian cinemas and her love for Goku (Dragon Ball Z) is also known among her fans. The actress has even named her pet dog Goku! Apart from DBZ, she is also a fan of both classics and ongoing series like Naruto, Black Clover, etc.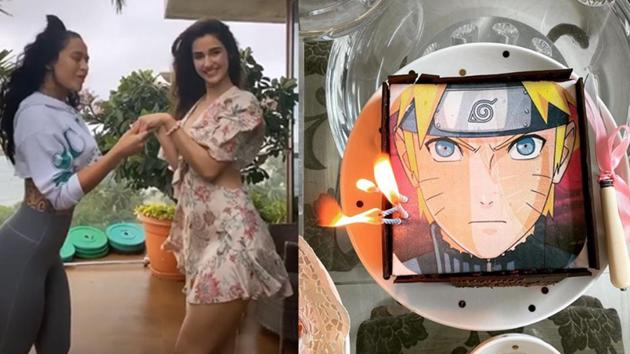 On her 28th birthday, she flaunted her Naruto Birthday cake brought by her boyfriend Tiger Shroff and BFF Krishna Shroff in an Instagram post. She also shares her brother's anime artworks in her account to spread the love of anime!
Twitter: @DishPatani
Instagram: @dishapatani
So, we see that the Indian Anime community comprises some of the biggest influencers and celebrities. These celebrities are well aware of the potential Anime carries and they influence many more to explore the medium.
Keep tuning in to Animehunch for more updates and news topics on the Indian Anime Community!