Amazing! Incredible! Eyeglasses that let you see through clothes. The secrets to super-human strength. Scary seven-foot-tall ghosts that do your bidding. All of this could be yours for a dollar or two. At least, that's what vintage American comic-book ads would have you believe. Amidst other ways to reach out, comic books/ e-books and comic strips are an attractive option for advertisers.
Despite the fairly low circulation and readership of comic books in India, more advertisers are hopping on to the bandwagon. However, for the Indian comic publishers and merchandisers, it isn't an easy journey. TV and then social media may have ended the golden run-up to the 1990s, but new books and new forms may reignite the reader's interest.
What is Comic Advertisements?
Comic book ads are a common feature in American comic books mainly from the 1940s onwards. Comic advertising– as the name implies, an advertising method that uses cartoon or comic book characters. These ads made quirky claims which were mostly directed at young people. They sold the items for a few dollars and send them to a nearby post box. The range of the products offered were novelty items, toys, and self-improvement courses such as drawing and even bodybuilding.
They were very effective in advertising and marketing due to their high engagement rate compared to conventional, text-loaded ads. But, the Americans certainly didn't invent comics.
In reality, it began much, much further back in other countries. For example, in Japan, Manga that is very much like comic books, in storytelling if not in format, has been around for centuries. Now, manga is a roaring medium in business for marketing purposes.
How Japan Utilised Manga To Enhance Reach And Brand Development?
Manga (漫画) — Japanese comics or graphic novels —a common word related to Japanese pop culture. This may seem like a fairly new art form, though humorous and satirical illustrations trace back to 12th-century Japan. Its current form was first developed in the 1920s. Under the influence of the great manga artist Tezuka Osamu (1928–1989), the manga began to gain national and international recognition. Astro Boy, Black Jack, Buddha are some of his outstanding works.
Manga literally translates as "whimsical pictorial." Katsushika Hokusai, a wood engraver and painter, coined the phrase in Hokusai Manga, one of his many publications. In a 15-volume series of sketches published in 1814, he covered various topics ranging from the informative to the comical aspects of the Edo period. Later, the agenda continues to seep into the business world. Now, Japan heavily funds new concepts like Manga Content Marketing and Manga Advertisements.
Manga Content Marketing and Manga Advertising
Manga style advertising is mainly used as a means for product placement and branded content, instead of the traditional approach. The wide-ranging subject matter of manga is utilized to promote anything; from beer to sportswear to cars to even social and political awareness.
Typically there are two options available for marketers – a brand can either produce its own manga storyline in collaboration with a publisher and mangaka (manga artist), or a product placement fee can be paid to pay to feature a product in an existing series.
Manga Content Marketing
Manga content marketing characterizes as a technique that utilizes the manga art style as the medium to convey a message. This approach in branding is relatively new; nevertheless, industry observers anticipate exciting opportunities. It enables the brand to extend its story and characters beyond the manga format to television and various other media.
Examples of Manga Content Marketing
NIKE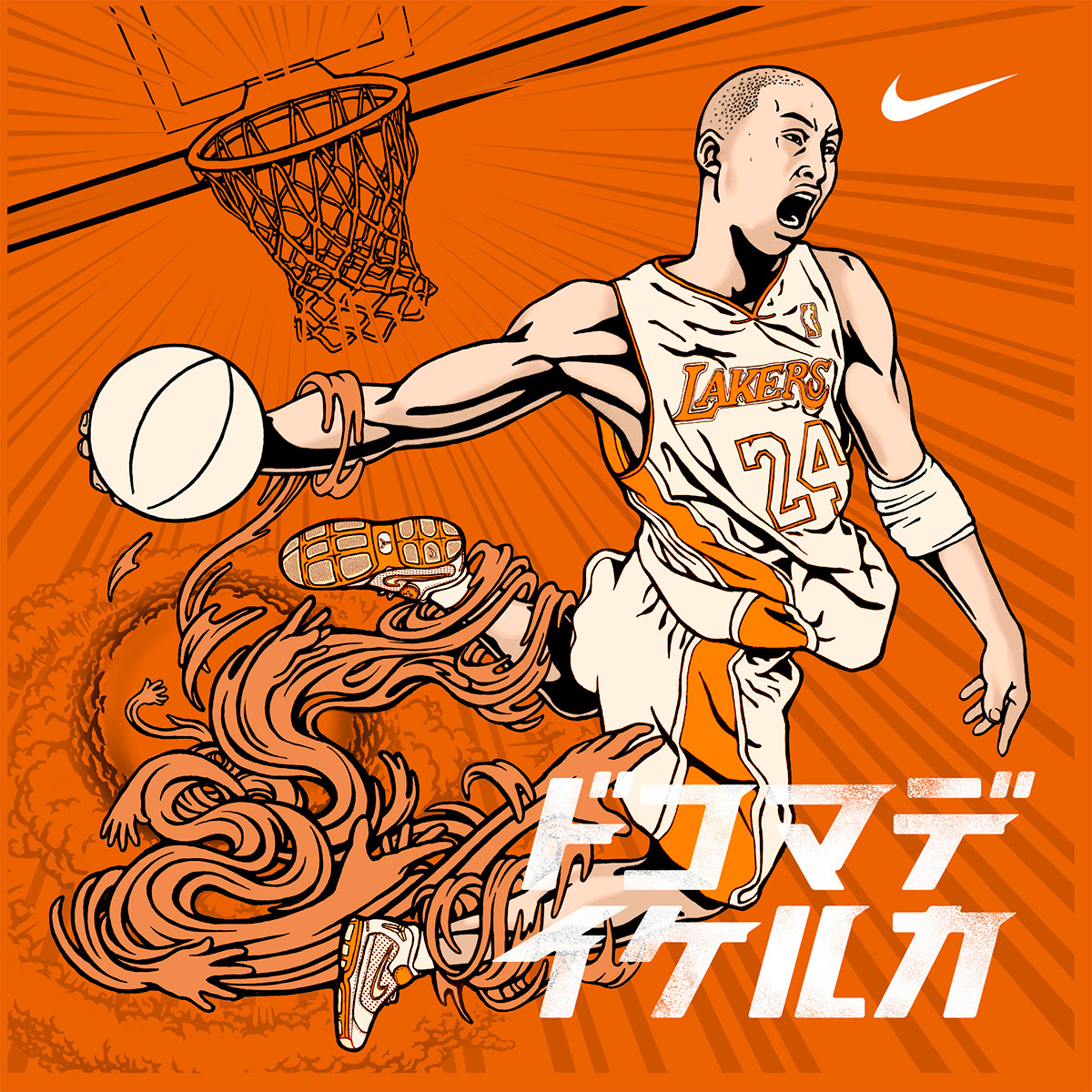 Nike in partnership with Beacon Communications implemented the "Bukatsu" campaign which targeted high school sports enthusiasts. The campaign offered audiences access, via QR codes, to a manga series that featured basketball player Kobe Bryant, football player Ronaldinho, baseball player Daisuke Matsuzaka, and other professional athletes.
Information-technology Promotion Agency Japan (IPA)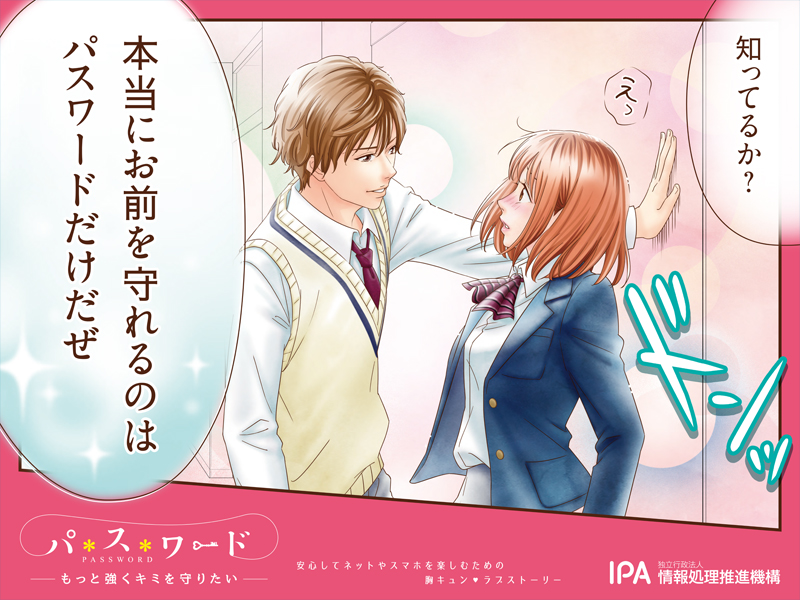 IPA, a government agency within the Ministry of Economy, Trade, and Industry published a short manga series in 2015 entitled "PASSWORD — I Want to Securely Protect You" which aimed to raise awareness of protecting and setting strong passwords.
Government Authorities and Awareness
Following the two consecutive missile launches from North Korea in 2017, the Hokkaido Prefectural Government published manga illustrations on their website to educate their residents about the precautionary measures when the J-Alert system sounds.
The four-page comic series features different scenarios of six characters going about their daily routines and their actions after the J-Alert warning. The local government encourages everyone to spread and share manga with their families and friends to increase public awareness.
Manga Advertising
Manga advertising characterizes a marketing technique that utilizes a certain manga as a marketing tool to promote products. It can also include the concept of "product placement" to promote both the manga and the brand. In regard to this, Takuya Matsuo, the regional creative partner at Ogilvy Japan notes that manga and anime have significant potential for the advertising business.
Examples of Manga Content Marketing
Suntory The Premium Malt's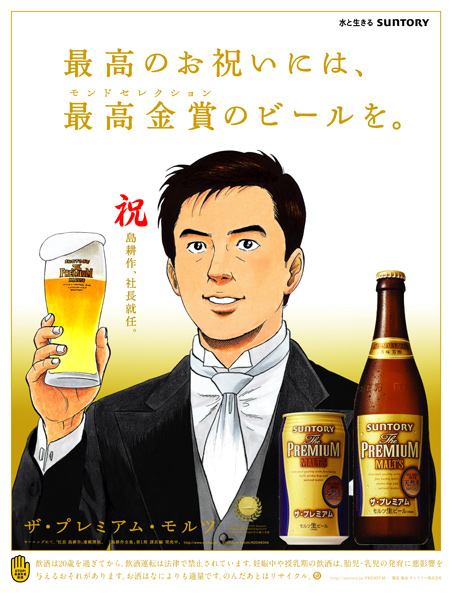 Kosaku Shima, a popular manga character among Japanese salarymen features in a manga with the same name. He was promoted to company president as part of the series' plot in May 2008. In partnership with Suntory, Japan's real salarymen raised a glass of the brand's award-winning beer, The Premium Malt's, to Shima, coinciding with this episode in the story. 
BMW RS54
Ah! My Goddess, a manga pays focus to Keiichi's BMW RS54 motorbike on numerous occasions, even featuring it front and center for one of the later episodes of the anime.
Haagen-Dazs
In the Kara no Kyoukai series, in both the original novel and the movie adaptations, the character of Shiki was eating Häagen-Dazs strawberry ice cream. She's is actually also a fan of Volvic water!
Bacardi
Barcardi rum shows up in Black Lagoon during a drinking contest; while Dutch was using a Heineken can as an ashtray.
M&Ms
In the City Hunter anime, it features M&Ms candy multiple times. It was either in logo form on trucks or billboards or somebody was actually eating.
Pizza Hut
Pizza Hut has a very lucrative deal with Code Geass: Lelouch of the Rebellion. The signs are in every episode and the cast eats pizza at every chance they get.
In short, if you are thinking about expanding your brand to Japan, it may be worth incorporating manga into your marketing strategy to achieve a stronger impact.
Has India Ever Approached Advertising Through Manga/Comics?
Yes. Even though the circulation of comics is low in India, more advertisers are starting to getting into it. The most recent ad about Coronavirus awareness for kids is titled 'Kids, Vaayu & Corona'. The comic book provides details about coronavirus and how to stay safe. A spectacular step towards awareness through creativity!
In the absence of other ways to reach out to the young, comic book content presents advertisers with an attractive option. Bubba's comic strip debut marked a new trend among advertisers—the use of comic books as a medium to target children. Such a trend spread in India with a branded comic book called Chandamama.
Bubba the cat, the mascot for Cadbury India Ltd's bubblegum brand Bubbaloo made its comic strip debut in languages such as Marathi, Tamil, Oriya, Sanskrit, and Santhali, which was common in the tribal belts of West Bengal, Bihar, and Jharkhand.
Parle Products had also tied up with Chandamama to promote the adventures of two friends- Ram and Shyam. They band together and save the day with a little help from their multicolored confectionery, Poppins. The idea wasn't really new; Ram, Shyam, and Poppins appeared as comic strip ads on the back page of comics such as Indrajal Comics and Amar Chitra Katha in the 1970s and 1980s.
According to Salil Kolhe, sales head at TBS Planet Comics, from big film banners to automobile manufacturers, everyone today looks for a comic character to promote their products or at least a comic strip campaign for social media. "We have worked for Ajay Devgn Films and Balaji Motion Pictures to non-profit organizations who wanted to promote using comic means. Comics are one of the best ways to publicize a material because it's fun and easy, especially to communicate with the new generation," he shares.
Can Comics Appeal To Adults In India?
Believe it or not, in Japan manga is consumed by readers of any age, from elementary school students to senior citizens. In fact, a survey by Shinfield, a Japanese firm specializing in manga marketing, found that 69.7% of respondents aged 40 and up still read manga.
In India though, advertisements through comics for adults were only an idea back in the days. Advertisers wanted to use comics to market brands to adults. That is either by establishing a presence in comic books that have sprung up in the sliver-thin market for comic books aimed at grown-ups or by enhancing pester power—the ability of children to influence the products bought by their parents.
Now, one of the smooth sailing brands that are successfully acing the Indian market through comics these days is the dairy brand Amul. There would be hardly anyone who must be unaware of the creative topical cartoons of Amul or the Amul Girl.
Rahul daCunha, creative head of ad agency daCunha Communications, copywriter Manish Jhaveri and Jayant Rane are the three persons who have been doing this creative work religiously for the last 25 years. The ad campaigns of Amul Butter have been part of India's cultural landscape for over 50 years now. Whenever there's something new trending in news, Amul comes up with a cheeky and amusing message that win the heart of consumers.
How Has Comics Shaped Indian Politics?
Speaking of comics in India, political parties also use the power of cartoons to propagate their values. Cartoons, comics and caricatures of historical events are active in India for more than 70 years.
In 1960, Balasaheb Thackeray and his brother used 'Marmik' to campaign against the rising number of non-Maharashtrians in Mumbai's business and salaried class. He published a weekly list of all such persons engaged in senior government and private sector jobs. The list was titled 'Vacha ani Thanda basa (Read and sit quietly)'.
"The Common Man" by R.K Laxman has been a comic mascot of Indian life for over six decades. It first appeared in comic strips starting in 1951 and then regular cartoons in daily newspapers. For these many years, The Common Man served as a stark observer of the nation's highs and lows, always in the right place at the right time to bring out the irony or comedy of any situation.
Promoting Awareness via Community Drawn Comics
The world of comics speaks louder than huge paragraphs of writings. However, not all cartoonists have to be Laxman or cartoonists like Shankar Pillai, Ahmed, Bal Thackeray, B.V. Ramamurthy. Comics can also convey messages in small-scale communities.
World Comics India is one such example. It is a part of the World Comics Network that promotes the use of Grassroots Comics. They are simple comics that tell a local story drawn by a local person (not an artist) in local languages. They are a communication tool for all citizens that can transcend the barriers of language, literacy, media access, resources, and social classes.
Why Marketing Through Manga Or Comics Is Effective?
Advertising material is everywhere all around us. Many of them have complex product descriptions and numbers. So, let's be honest. In general, people don't enjoy looking at adverts online or in publications, and most rarely go out of their way to read them.
But in Japan, the psychology of "read it if it's manga" has achieved high results in the marketing business. The scientific reasoning behind this is that- visual memories are the strongest memories. A combination of both visuals and words allows the brain to understand and retain more information in a shorter period of time.
Employing manga/cartoon as a visual communication tool can make it much easier to explain and present complex ideas or processes. This is why now manga not only works for B2C brands but also for B2B as well.
Manga/Comics has visual effects that can not be conveyed only by sentences. They simulate experiences by having a story and have effects that lower the psychological hurdle at the beginning of reading something.
How Will Manga Or Comics Help Brands To Flourish In Digital Age?
Social Media Influence
As social media spread over time, relatable comics/manga ads are receiving more attention than ever. Manga artists have a cult following on social media in Japan. So by featuring their work in brand advertisements, businesses can showcase artists as influencers.
Crowds are hardly aware of the virtual comic publishers, but developing free access structure allows them to display their creative stories and artwork. Thus, they establish a bond between readers and their imaginary characters.
According to a study by Shinfield, the conversion rate of a landing page for beauty supplements increased 1.5 times when using manga.
Likewise in India, the power of comics is still alive. If the right product turns to the right audience then brands can have explosive profits. Continuous promotions and sharing can help them reach a wider audience and demography at a very minimal cost.
Save Time. Save Money.
Fans of graphic cartoons are provided with numerous advantages over print versions. Physical copies of comics can make you wait until it gets printed. There are comic book collectors of print versions always desiring to add another collectible. Meanwhile, there are many enthusiasts who just like to read them. And these printed comics can cost a lot sometimes.
Digital versions are extremely cheap or even mostly free in that case. They are published more quickly than the printed ones. Now, you don't have to wait desperately for the subsequent one in the sequence. You can even download the complete graphic comic series as soon as you find one. So fans can now afford to own more of them and can access them anywhere anytime.
However, many large comic book distributors sell digital comics along with print versions. So that customers can buy them both.
Promotion in Regional and Official Languages
English is regarded as the official language throughout the world. So, finding comics in regional languages is very hard.
For that reason, with the advancement of technology a digital sample of any language can be converted to any other language within seconds. This can be done by the creators on their own, or any publishers who may take interest can do it. This will promote the brands both at national and international standards.
Environment friendly
Paper used in the production of comic books can have a damaging effect on the environment. As for sustainable forestry, world-leading environmental organisations have criticised its weak regard for social and ecological issues.
These downloadable, paperless comics are groundbreaking. They having been deliberately designed to have a minimal carbon footprint. Thus they do not take up physical space and let you keep them with you for a long time.
Final Thoughts
Manga/Comics is considered an effective tool for advertising because of its visually appealing nature and its ability to retain the viewers' attention. The process is cheaper than traditional marketing and has better connect and reach. The readers become endeared to the characters; that gives comic publishers a chance to monetize this relationship by offering merchandise. Sometimes, they even publish printed copies of their online comic versions. International brands as well as Indian brands are doing it. The commercial application on brands further needs to be emphasized by Comic Advertisements for a sustaining market value.