Hajime Komoto, the author of Mashle which is currently being serialized in Shueisha's Weekly Shonen Jump, revealed in the afterword of the manga's 10th volume that he was lying about the series being short.
Komoto began the afterword by thanking fans for purchasing the 10th volume of Mashle. He then retracted from his previous statement about the story being short and apologized to fans for lying.
The Mashle author continued in a light-hearted tone, asking fans to not throw stones or cans at him, while saying that adults are liars.
To all of you who have purchased Mashle, thank you very much for purchasing Mashle Volume 10! Volume 10 before you know it. Thanks to all of you. At the same time, I apologize for saying at the beginning that the story would end short and thick! I lied. I'm sorry! Please don't throw stones! Ouch… !!! And no cans! Or tangerine peels! I'm sorry about that… !!! I'm sorry! I think adults are liars. Children should really be careful. If you leave them a New Year's gift or something, almost 100% of them won't come back. … … Be careful

Komoto's afterword in Volume 10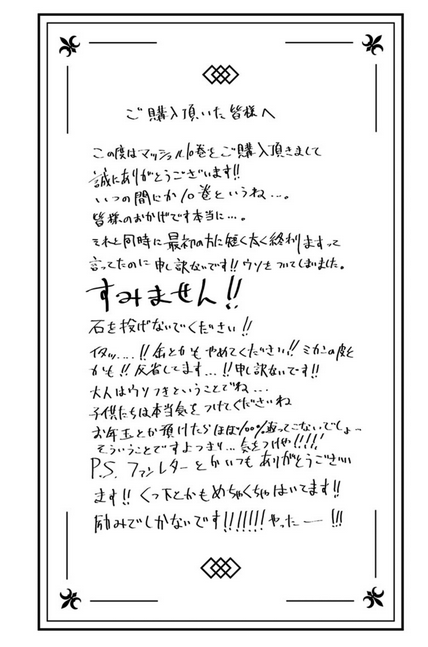 In volume 7, the mangaka had stated that the series was halfway done.
While fans' initial reaction to the leak posted on twitter by user @wsj_manga was that of joy, they later began to contemplate if Shueisha was forcing Komoto to extend the series beyond planned because it was performing well.
A fan even compared this situation to that of Dragon Ball series author Akira Toriyama.
Other fans too agreed saying that with prominent series like Dr. Stone and My Hero Academia ending, it made sense to make Mashle stick around for longer.
Some criticized this move saying that Mashle was already getting stale, and if Komoto doesn't come up with new exciting plot materials, it would prove to be a wrong decision.
Mashle: Magic and Muscles is a manga written and illustrated by Hajime Kōmoto. It has been serialized in Shueisha's Weekly Shōnen Jump magazine since January 2020. As of Dec 2021, there are nine Mashle volumes in circulation.
The 10th volume of the manga is set to release in Japan on March 4, 2022.
Source: Twitter