The official website of WIT Studio's Great Pretender TV anime released a key visual and a new PV. The premier date of the anime was revealed in the PV.

Great Pretender anime has a theme of "credit fraud" and will be a "happy and comedic drama between worldly famous swindlers." The PV revealed that the anime stream on Netflix from June 2 in Japan. The anime will be made available to worldwide audiences by the streaming giants at a later date than that of Japan.

The release dates of the episodes in Japan are as follows:

Case 1 (episodes 1-5): June 2
Case 2 (episodes 6-10): June 9
Case 3 (episodes 11-14): June 16

The release dates of further episodes of the anime will be revealed soon.

In the PV, the newbie scammer Edamame is invited to Laurent and headed to the target Hollywood Mafia! There are plenty of new cuts and lines by the main characters, the official website said. 

A new visual with the characters Edamame Masato, Etomura, Laurent Thierry, Abigail Jones (Abby), and Paula Dickins was also released. The cast of the anime includes Chiaki Kobayashi (Edamame Masato), Junichi Suwabe (Laurent Thierry), Natsumi Fujiwara (Abigail Jones) and Mie Sonozaki (Paula Dickins). The series is directed by Hiro Kubaragi (of My Little Monster fame), scripts are handled by Ryota Kosawa and Yutaka Yamada (Vinland Saga & Tokyo Ghoul) is handling the music for the anime.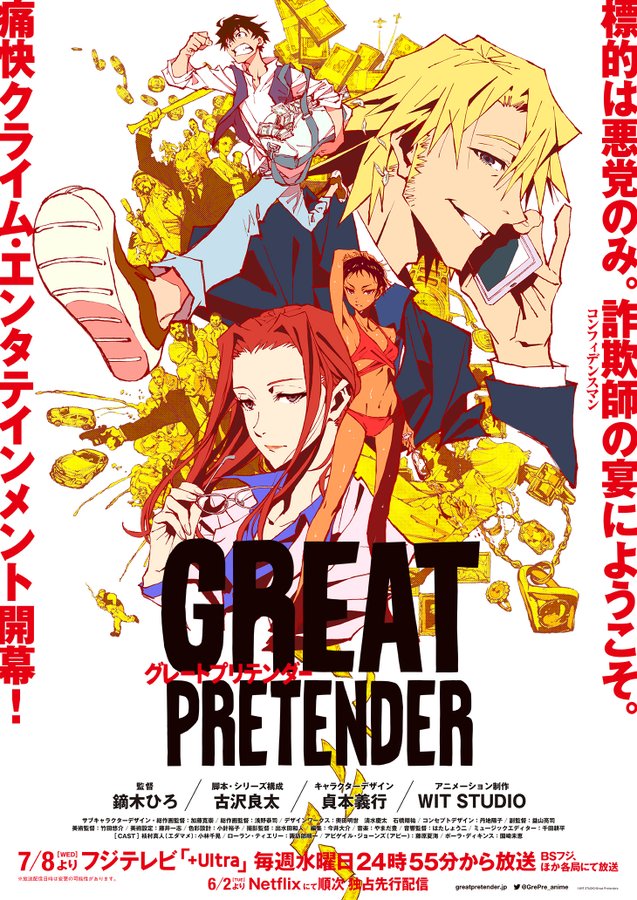 Great Pretender follows Masato who has styled himself as Japan's greates swindler. Along with his partner he tries to trick a Frenchman, however, he ends up getting tricked instead. This frenchman is none other than Laurent Thierry- a much higher-level 'confidence man,' in control of the mafias. Edamura is yet to find out what fate awaits him, after having engaged in the Frenchman's dirty jobs…!