A special announcement related to the 15th anniversary of Isuna Hasekura's light novel series Spice & Wolf (Jap: Ookami to Koushinryou) on Feb 26, 2022 revealed that the franchise will be getting a new anime project.
A key visual and PV were released to commemorate the new Spice and Wolf anime announcement.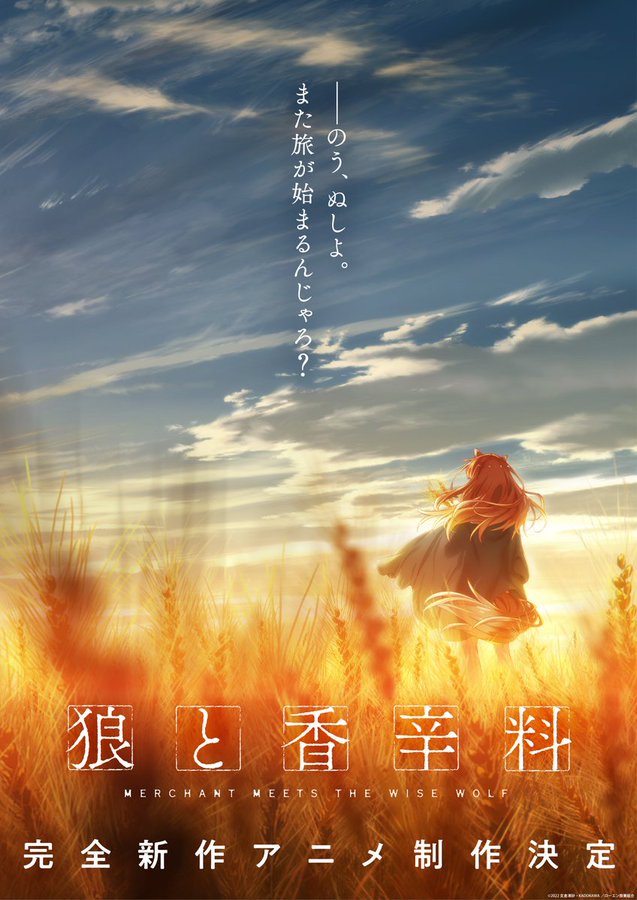 Additional details about the project will be revealed soon.
Spice and Wolf is a light novel series written by Isuna Hasekura and illustrated by Jū Ayakura. 23 volumes of the novel have been published in the Dengeki Bunko Imprint since Feb 2006.
A 12-episode anime adaptation by Imagin studio aired between January and March 2008. An original video animation (OVA) episode released in May 2008. A second OVA was released in April 2009 as a prequel to the second anime season Spice and Wolf II adapted by Brain's Base and Marvy Jack, which aired 12 episodes between July and September 2009.
A manga adaptation illustrated by Keito Koume began serialization in the November 2007 issue of ASCII Media Works' seinen manga magazine Dengeki Maoh.
MAL describes the plot of the series as follows;
A young traveling merchant, Kraft Lawrence has become accustomed to days of roaming and trading, with few companions. Or so it was until one peculiar day where the trader finds a young, naked, wolf-like girl asleep in his wagon.

The beautiful girl, calling herself Holo, claims to be a local wolf deity worshipped by locals as the God of Good Harvest. Year after year, she ensured they would reap a good harvest, but she has since grown tired of fulfilling the wishes of the ungrateful locals.

Holo ends up striking a deal with Kraft: if he helps her escape the villagers, she will gladly help him in his merchant endeavors. Together, they roam from town to town in search of business, and Kraft realizes both the ups and downs of traveling with a haughty and shrewd wolf goddess.
The series has been called a "unique fantasy" by Mainichi Shimbun due to the plot focusing on economics, trade, and peddling rather than the typical staples of fantasy such as swords and magic.
Spice and Wolf was  placed 1st on the Kono Light Novel ga Sugoi! ranking under Best Light Novel category in 2007.
ASCII Media Works has published five volumes of a spin-off light novel series titled Wolf and Parchment since September 2016. Yen Press is releasing the novels in English in North America.
Source: Twitter