A new key visual for Jujutsu Kaisen Season 1 featuring Yuji Itadori and Ryomen Sukuna was released at the "Jujutsu Kaisen" Special Stage at AnimeJapan 2022.
The stage event was attended by voice actors Junya Enoki (Yuji Itadori), Yuma Uchida (Megumi Fushiguro), Asami Seto (Nobara Kugisaki), Yuichi Nakamura (Satoru Gojo) and Takahiro Sakurai (Takahiro Sakurai).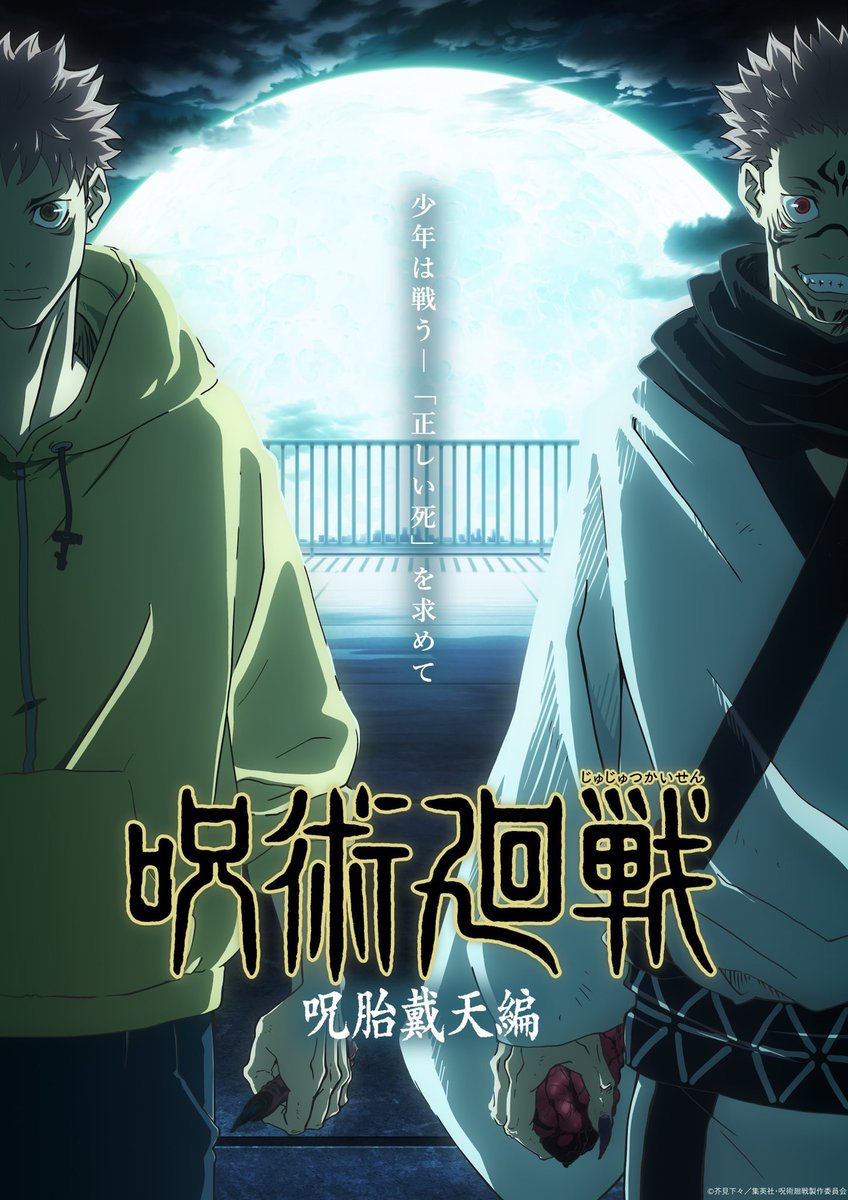 Jujutsu Kaisen season one will be rebroadcast on 28 MBS/TBS networks from April 3, 2022 at 17:00 JST. The rebroadcast will also include weekly audio commentary by the voice actors. Junya Enoki and Junichi Suwabe will be providing the voice commentary for Episode 1 of season one rebroadcast.
Additionally, the special stage also revealed that the first Jujutsu Kaisen smartphone game titled "Jujutsu Kaisen Phantom Parade," is set to be released on iOS and Android platforms in 2022.
In order to commemorate the announcement, a giveaway campaign with a poster featuring the visual of the game and signed by the five voice actors in attendance was announced.
The special stage also screened some clips from the Jujutsu Kaisen 0 movie.
Jujutsu Kaisen is a Japanese manga series written and illustrated by Gege Akutami. It is currently being serialized in Shueisha's Weekly Shōnen Jump since March 2018. The Jujutsu Kaisen chapters are collected and published by Shueisha, with eighteen tankōbon volumes released as of December 2021.
The story follows high school student Yuji Itadori as he joins a secret organization of Jujutsu Sorcerers in order to kill a powerful Curse named Ryomen Sukuna, of whom Yuji becomes the host.
A 24-episode anime television series adaptation by MAPPA aired on MBS from October 2020 to March 2021.
A movie adaptation of Jujutsu Kaisen prequel, Jujutsu Kaisen 0 premiered in Japan in December 2021. It had crossed the 10 billion yen mark in Japanese box office in 43 days, earning about 10,456,322,400 yen (about US$90.6 million) from 7,603,732 tickets on its 45th day.
Jujutsu Kaisen 0 is based on Tokyo Metropolitan Curse Technical School, the prequel manga to the main series, Jujutsu Kaisen. It is written and illustrated by Gege Akutami. The manga was serialized in Shueisha's magazine Jump GIGA from April to July 2017.
The movie released in North American theatres on March 18, 2022 in both dubbed and subbed versions and grossed US$14.8 million in its first weekend, racking up an average of US$6,482 per-screen at 2,286 locations.
Source: Twitter