The official twitter account of KonoSuba anime announced on May 18, 2022, that more details about the franchise's new anime project will be revealed in a unique live broadcast event that will be streamed on Kadokawa's official YouTube channel on May 28, 2022.
A new announcement visual was released to commemorate this.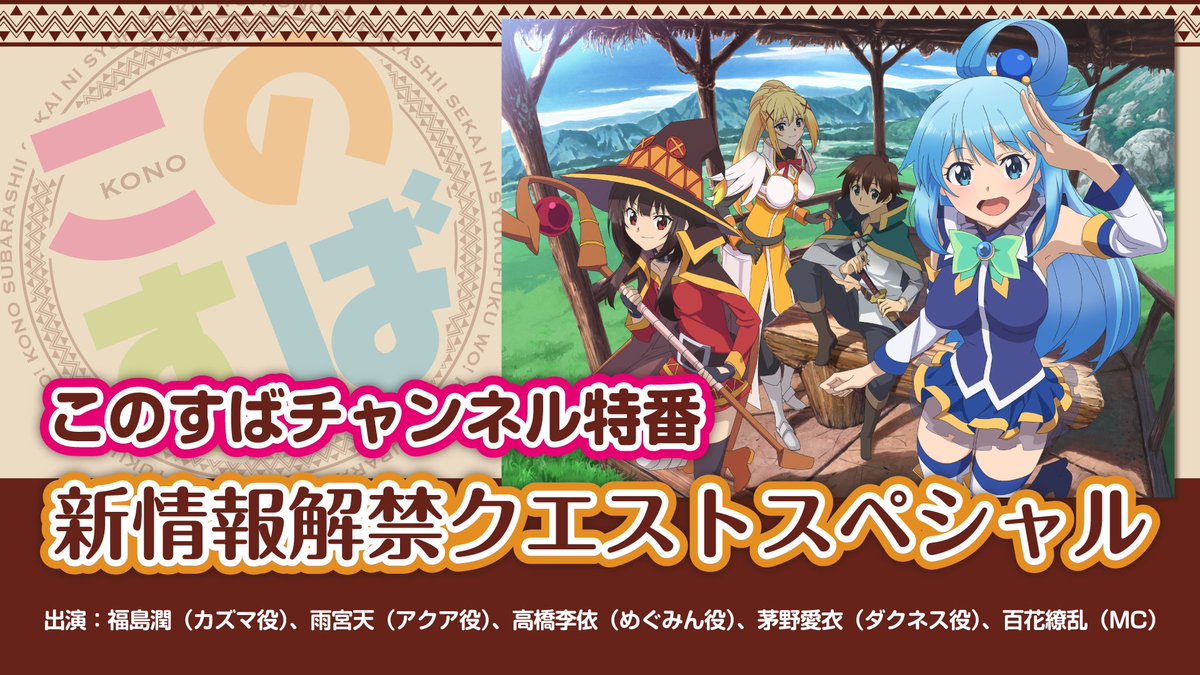 Jun Fukushima, who voices Kazuma, Sora Amamiya, who voices Aqua, Rie Takahashi, the voice of Megumin, and Ai Kayano who voices Darkness in the anime will be participating in the live broadcast, which will have an event "New Information Unveiling Quest Special."
The voice actors will undertake various quests as a part of the event. When they successfully complete a quest, new information about KonoSuba's new anime project will be released.
More details about KonoSuba's new smartphone game will also be revealed during the live broadcast.
Kono Subarashii Sekai ni Shukufuku wo!, often abbreviated as KonoSuba (English: KonoSuba: God's Blessing on this Wonderful World!) is a Japanese light novel series written by Natsume Akatsuki and illustrated by Kurone Mishima.
It was originally serialized as a web novel on Shōsetsuka ni Narō between Dec 2012 and Oct 2013 and then published as a printed light novel series by Kadokawa from Oct 2013. The light novels ended with the 17 volume, which released in May 2020.
An anime television adaptation by Studio Deen aired in Japan between January and March 2016. A second season of the anime aired between Jan and March 2017. An anime film adaptation by J.C. Staff titled KonoSuba: God's Blessing on This Wonderful World! Legend of Crimson premiered on Aug 30, 2019.
The production of a further anime project was announced on July 18, 2021.
Edit: We had earlier reported the date of live broadcast as May 20, 2022. It has been corrected to May 28, 2022.
Source: Twitter