Crunchyroll's original series In/Spectre revealed a new trailer along with plans for Season 2 of the series. Crunchyroll also put out a celebratory announcement art in addition to the trailer, along with comments from voice cast member Akari Kito, who plays Kotoko Iwanaga in the adaptation as well as original author Kyo Shirodaira and manga artist Chasiba Katase.
Here is the clip and announcement art:
Author Kyo Shirodaira says this about the announcement:
"I never anticipated the series getting a second season. The announcement really shocked me. I was actually thinking it was about time to drop Miss Iwanaga down Reichenbach Falls or the like, but apparently, I won't be doing anything that rash any time soon. However, even if she was dropped down those falls, she'd probably use a kappa or something and somehow survive, so she'd continue on her merry way. I'll continue watching over the walking, talking Miss Iwanaga in the animation."
Chasiba Katase, the illustrator of the manga adaptation, shares some art along with a comment: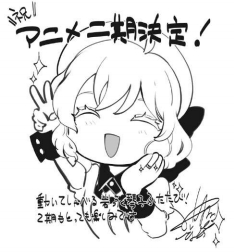 "Congratulations on getting a second season for the anime! Also, we get to see even more of Iwanaga Kotoko-chan walking and talking! I'm very excited for the second season!"
And here's what Akari Kito has to say about the news:
"The TV anime In/Spectre is getting a second season!! The announcement made me happy throughout the day out of excitement. I'm so excited to see Kotoko, Kuro-senpai, and the yokai in the anime once again! I'm going to start training and strengthening all the muscles around my mouth right now to prepare for the role again so I hope everyone looks forward to the new season!"
Based on the light novels by Kyo Shirodaira, In/Spectre season 1 is by Crunchyroll. Also, the series aired in Japan as part of the Winter 2020 season. Here's the official description:
Iwanaga Kotoko became the god of wisdom to the supernatural beings and spends her days solving problems for them. However, the boy she fell in love with, Sakuragawa Kuro, strikes fear in all supernatural creatures. The two of them face various mysterious incidents involving the supernatural in this love x romance x mystery series. Where will these fantastical incidents lead them and what will happen with Kotoko's crush?
In/Spectre Season 2 will be available to Crunchyroll members in North America, Central America, South America, Europe, Africa, Oceania, the Middle East, and CIS.