Grand Blue Dreaming manga, written by Kenji Inoue and illustrated by Kimitake Yoshioka, will be on a hiatus from the February issue of Kodansha's Good! Afternoon magazine. Yoshioka's back pain was stated as the reason for the manga going on a hiatus. The announcement on Twitter reported that this issue was caused due to overwork.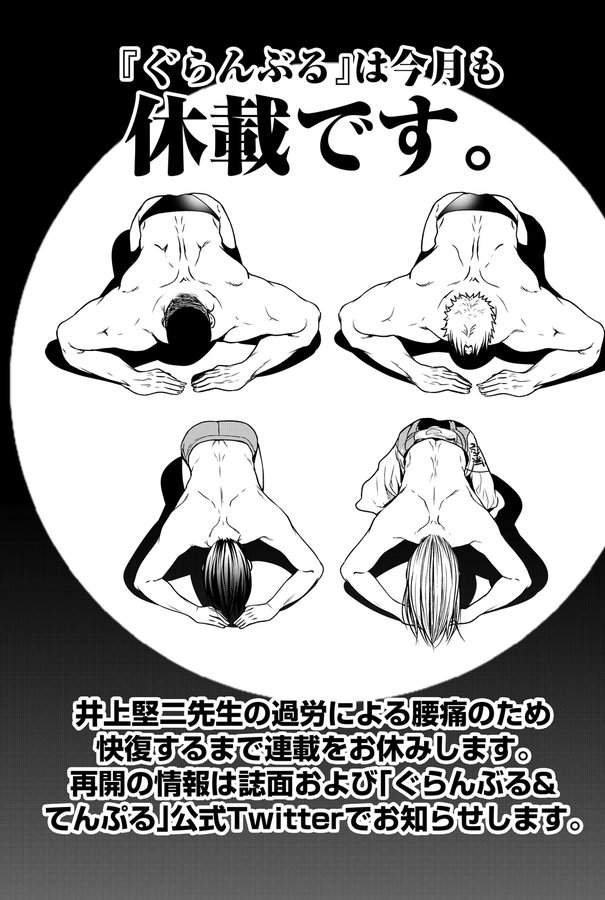 The manga will be on a break until Yoshioka recovers from his back pain. Yoshioka is also the illustrator for Amagi Brilliant Park, Soukyuu no Lapis Lazuli; Rinne no Lagrange: Akatsuki no Memoria.
Grand Blue, also known as Grand Blue Dreaming has been published in Kodansha's seinen manga magazine, Good! Afternoon, since April 2014. The series has been collected into 15 tankobon volumes as of May 2020. An anime adaptation inspired by the manga aired in July 2018.
Kodansha Comics is releasing the manga digitally in English. The overview of the plot is as follows;
The story revolves around Iori Kithara, a teenager who is joining Izu University as a freshman. Izu is a seaside town with ocean waves and sunshine goes hand in hand. Iori has a dream college life . He wants a college life surrounded by beautiful girls and a hand full of good friends. Iori moves into his uncle's scuba diving shop.
He meets a bunch of rowdy naked seniors who want him to join them for drinking alcohol as soon as he enters the shop. He is immediately a fan favorite among the seniors. The fun soon ends when his cousin, Chisa Kotegawa, enters and scorns him. Will Iori have his dream college life or will he encounter something completely different?
Source : Twitter, Anime News Network.