Trif Studio & Sae Okamoto started a Kickstarter campaign to fund their new anime series MECHA-UDE: Mechanical Arms. It gathered double its goal i.e. $67,918 across 999 backers. It released a pilot episode on Youtube which has further pushed it into launching a new anime series.
To announce the news, it also release a key visual: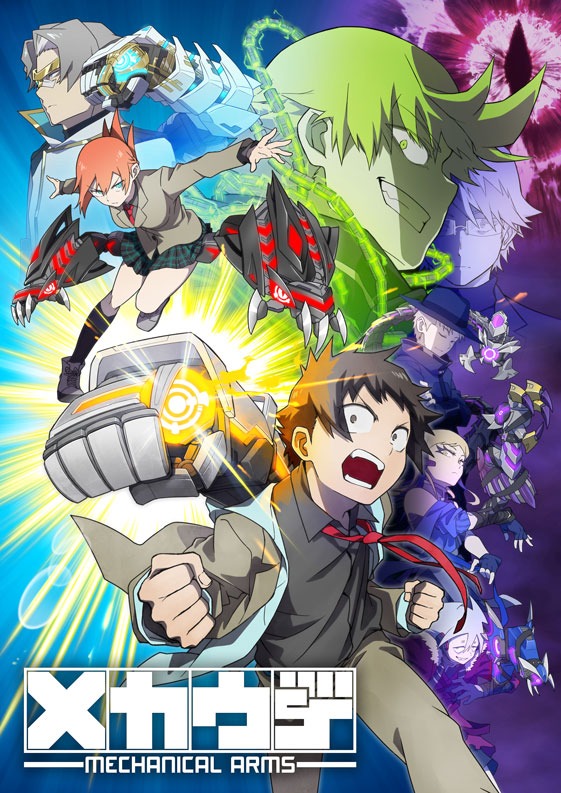 Apart from the anime series, a manga is also under development by Aria the Scarlet Ammo's Yoshino Koyoka. The manga released in Japan today with first 3 chapters available to read for free on LINE Manga app an ebookjapan.
The story of the MECHA-UDE pilot is described on its website as follows:
"ARMS (arms)" which is a resistance organization of the Kagami Group. There was a series of incidents in which only Mekaude use was targeted there, and that Mekaude was robbed. If you do not recover the pulled-out Mekaode, the human will die.
Arma, who is being targeted by the Kagami Group, and Mekaude, "Aki," who belongs to ARMS to escort them. She felt the shadow of Mekaude, the former nephew, in this incident. In order to confirm the truth, Aki ignores the advice of his boss and embarks on an investigation. Hikaru and Alma who are put together and rolled up.
Aki, who is not good at being small and difficult, chooses a method to question questions from the side of Mekaude, who hides in the city. With disgusting Hikaru and Alma Aki will leave for a formidable investigation tonight.
Source: Comic Natalie