The official website of AnimeJapan announced on Tuesday, Feb 1, 2022, that the event is scheduled to be held on March 26 and 27 at the Tokyo Big Sight center's East Tower Halls 1-8.
A new key visual and a collaborative visual were released to commemorate the same.
The collaborative visual features Sword Art Online's Asuna and Kirito, Tokyo Revengers' Mikey, Draken and Takemichi, Yowamushi Pedal's Sakamichi Onoda, and Love Live! Nijigasaki Gakuen School Idol Club's Yu Takasaki.
Japanese musician and voice actor Takanori Nishikawa will once again be the ambassador for AnimeJapan 2022.
The official website also revealed a list of 42 stages events that will be held over the course of two days. The stages are split into Red, Green, and Blue.
The following anime will have stage events on March 26, 2022:
Kimetsu no Yaiba ( featuring cast members: Natsuki Hanae, Akari Kito, Katsuyuki Konishi, etc.)
Jujutsu Kaisen ( featuring cast members: Junya Enoki, Yuma Uchida, Asami Seto, Yuichi Nakamura, Takahiro Sakurai etc.)
HUNTER x HUNTER (featuring cast members: Megumi Han, Mariya Ise public radio recording)
JoJo's Bizarre Adventure: Stone Ocean (featuring Fairouz Ai)
There will also be a special stage to commemorate the release of Teasing Master Takagi San (featuring cast Rie Takahashi and Yuiko Ohara), and a special live stage by Takanori Nishikawa.
The anime that have stage events on March 27, 2022 are as follows:
SPY x FAMILY (featuring cast members: Takuya Eguchi, Atsumi Tanezaki, Saori Hayami),
Sword Art Online (featuring cast members: Yoshitsugu Matsuoka, Haruka Tomatsu, Ai Kayano, Nobunaga Shimazaki, Rina Hidaka, Ayayo Takagaki, ReoNa) , "
Attack on Titan ( featuring cast members: Yuki Kaji, Yui Ishikawa, Marina Inoue, etc.)
The red stage will also have a special live event "Let's go to school" for Kaguya Sama season 3 (Kaguya-sama wants to tell you-Ultra Romantic-) featuring Aoi Koga, Makoto Furukawa, Konomi Kohara, Ryota Suzuki, Miyu Tomita and others.
The entire list of stage events being held at AnimeJapan can be found here.
Along with the stage info, AnimeJapan also released the list for "Manga We Want to See Animated Nominees".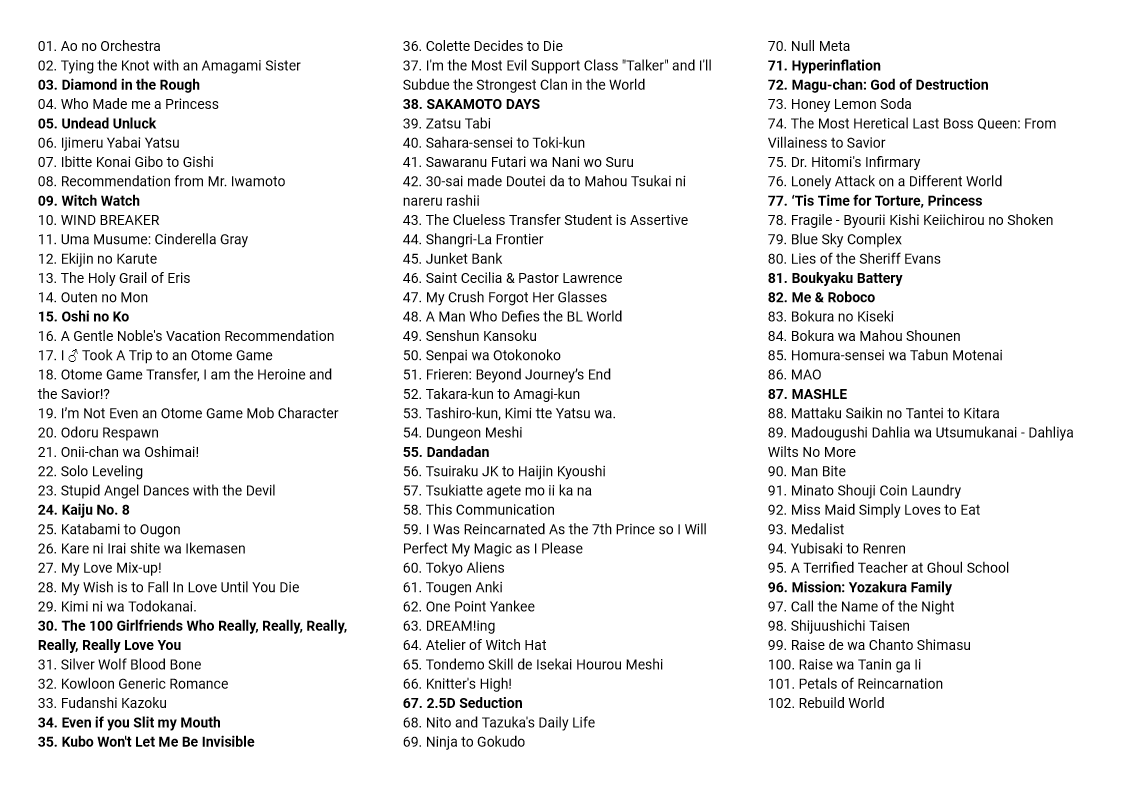 The theme of this event will be "Cue!", which conveys the message of "pushing forward with the feeling of making a new start."
AnimeJapan is one of the largest anime events in the world. It was held for the first time at the Tokyo Big Sight exhibition center in Tokyo in March 2014. It is organized by the AnimeJapan Executive Committee with support from The Association of Japanese Animations and The Association of Manga Publishers.
The event is attended by 150,000 anime fans. AnimeJapan 2020 was cancelled due to the COVID-19 pandemic.
Source: AnimeJapan official website, Oricon