Rumours were already rife about a Jujutsu Kaisen movie being in the works. This happened as leaks on the internet stated that the domain "jujutsukaisen-movie.jp" domain was purchased. And, on Friday, just as the final episode of Jujutsu Kaisen anime finished airing, Studio MAPPA confirmed that Jujutsu Kaisen will be getting a movie. It will be based on the prequel manga Jujutsu Kaisen Vol 0.
Here's everything you need to know about the movie!
Premise:
The plot of the movie will revolve around Okkotsu Yuta, a nervous high school student, who has been cursed by his childhood friend Rika Orimoto. The cursed spirit has clung on to him and just won't leave him alone. As Rika, who is a special grade cursed spirit, begins to cause some serious problems, Gojo Satoru enters the picture and saves Yuta from a tough spot.
Yuta is enrolled into Jujutsu High where he learns to control the powers of the cursed spirit Rikka and use it according to his will, along with already known characters Maki Zen'in, Inumaki Toge and Panda. The prequel is set approximately one year before the plot of Jujutsu Kaisen. Yuta Okkotsu is playing an important role in the current arc that is going on in the Jujutsu Kaisen manga!
You can read a free preview of Jujutsu Kaisen vol 0 on Viz. According to Gege Akutami, the author of the manga, only good things are sure to come to those who read the prequel!
Trailer:
The official website released a trailer, or rather a teaser, for the upcoming Jujutsu Kaisen movie along with the announcement. The 30-second video doesn't reveal any major details about the plot but gives a first look into characters who will play an important role in the movie.
A key visual too was released to commemorate the announcement!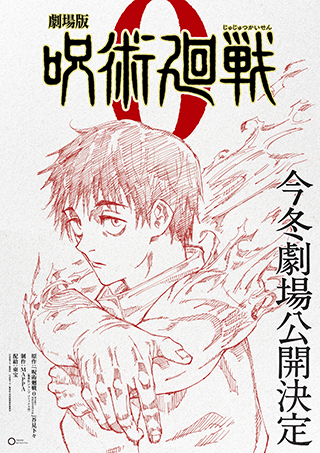 Release Date:
The Jujutsu Kaisen movie will be releasing this winter. Other than that, MAPPA has not divulged anything about the release date. It will come out in December 2021 at the earliest.
Cast & Crew:
No information about cast and crew has been released. But Yuuichi Nakamura, Mikako Komatsu, Tomozaku Seki and Kouki Uchiyama will reprise their roles as Gojo Satoru, Maki Zen'in, Panda and Inumaki Toge respectively.
Studio MAPPA is confirmed to be animating the movie.
About Jujutsu Kaisen:
Written and Illustrated by Gege Akutami, Jujutsu Kaisen is a manga series that follows Yuji Itadori as he joins a secret society of Jujutsu Sorcerers to combat Curses. It began serialisation in Weekly Shonen Jump in 2018 and has been collected into fifteen tankobon volumes as of March 2021.
Jujutsu Kaisen Vol 0 was published a four-chapter monthly series in Jump GIGA from April to July 2017. At the time of serialisation the prequel was known as Tokyo Metropolitan Curse Technical School. It was collected and realeased as a volume under the title Jujutsu Kaisen Vol 0 in December 2018.
This post will be updated as when new information about the movie comes out. Stay tuned!